The Four Pillars of an Effective IRR Management Program
While deposit rates were initially slow to move in response to changing market rates, the "lag" period appears to be over.
CD, and even money market promotional rates, aren't hard to find. All this change has resulted in an increased Regulatory focus on interest rate risk (IRR) management.
Does your IRR management process measure up?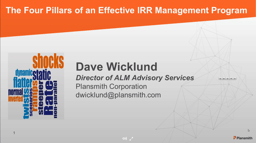 This complimentary educational webinar looks at the key components of an effective IRR management program.
Fill out the form to watch this free webinar now! →